Happy St. Patrick's Day! I cannot believe that it is in the 50's and sunny. What happened to our annual predictable Paddy's Day snow storm?! don't get me wrong...I'm not complaining, but it certainly is a pleasant surprise.
This morning I woke up and went right out to my cricut to make a lephracan with my Paper Dolls dress up cartridge. Once I got going though, I ended up making a card to hold a flower MArisa wanted to give her teacher. I love it when that happens. I start out just playing and the next thing you know I have a full blown project in my hands. Here is my creation for this holiday. I am pleased with how it turned out.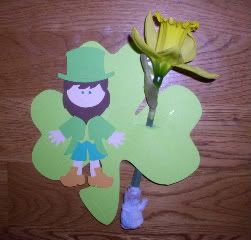 I love the crafting world. I am a pleaser by nature, so it is so fun for me to be able to make people smile with my creations. I feel truly blessed that the Lord has given me this love, and the opportunity to reach out to others through this. I am praying that one day, he will be able to use me with the gifts he has given me.
Let everything I do be done in love (true love to God and ,an as inspired by God's love for me) -1 Corinthians 16:14